Twin Group to Sponsor ERSA Award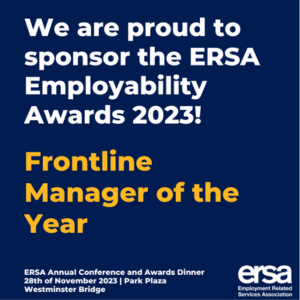 We're looking forward to this years Employment Related Services Association (ERSA) annual conference, where we will join other members in meeting and networking with each other, sharing best practice ideas with them, and learning more about what's going on in the employability sector.

This year, we're delighted to be sponsoring the award for Frontline Manager of the Year, which recognises the hard work of those who help move people in to good jobs, and continue to support them. The awards are a key part of the the conference, and they celebrate those who are fulfilling ERSA's mission of Working for Better Work.

This year, our social enterprise 3SC has been nominated for the Community Outreach of the Year Award, for their work helping reach their local community and help move them in to work. Director Kathryn Jellings has also been nominated for the Sharing Best Practice Award, thanks to her contributions to forums, conferences, and networks.

Twin Group CEO Caroline Fox said:

'We're so proud of all the people who help people move into employment, and we can't wait to celebrate their hard work this year at the ERSA Awards.'