Empowering International STEM Students for global careers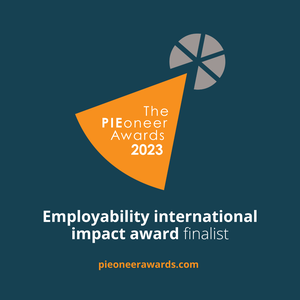 We are thrilled to announce that we have been named a finalist in The PIE's PIEoneer 'Employability International Impact Award' category, alongside our partners at The University of Greenwich.
The recognition as a PIEoneer award finalist is not just an accolade; it's a celebration of the hard work, passion and enthusiasm that our dedicated team has invested in creating career-changing opportunities for international students in the UK. It reflects our unwavering commitment to advancing career prospects for students across borders and preparing them for bright careers.
As part of the upcoming PIEoneer event, we have also been invited to participate in a panel discussion alongside two other employability finalists. The panel will delve into essential topics, including assisting returning students in discovering opportunities in their home countries, guiding them through post-study work rights, cultivating globally-oriented graduates and preparing them for future job prospects.
Ann Hawkings, who heads up our Employability and Placements for University team University Placements team, will be a speaker in the panel discussion. She will share her insights and expertise drawing from our experience helping international students secure placements and internships, broaden their horizons and prepare them to thrive in the UK workplace.
We are proud of this programme's transformational impact on international students' lives. Sharing his experience, Srivishnu Viba Shathish, a recent graduate with an MSc in Water, Waste and Environmental Engineering from the University of Greenwich, says, "Twin's support was instrumental in securing my placement and building my confidence. The skills I gained during my placement have been invaluable. I'm now on a rewarding career path where I am working as a Graduate Environmental Engineer at Atkins after finishing my industrial practice."
We believe that supporting international students with employability skills and placement programmes that connect them to UK employers not only ensures that students have the benefit of technical workplace experience where they study but also has a measurable positive impact on UK companies dealing with skills gaps and shortage. With innovative partners like the University of Greenwich, we are growing opportunities for students and contributing to developing a globally competitive workforce.